Split PST in Outlook of Large Size
Split PST Files by Size
Break Outlook PST file of any size by desirable size range. For instance, split 2 GB PST file into two smaller PST file of 1 GB through this option..

Split PST Files by Year
This is the way to divide PST file by year so that you can create separate PST file based on specific year range.

Split PST Files by Date
You can select specific date range and divide PST files in Outlook creating PST file for after and before the specified date range.

Split PST Files by Folder
Allows Splitting PST files by folder and create separate PST file for every folder with specified size.
Simple Steps to Divide PST files – Get it Here!
Split Outlook PST to divide large and Heavy Outlook PST Data files into smaller parts.
Split entire Outlook Mailbox like Personal date, journals, notes, calendar, contacts, task etc without lossing any data.
To have the practical knowledge on how to split Microsoft Outlook PST files into smaller files, user can try its free demo version. It will shows complete process of splitting PST by permitting them to break 50 emails only as part of demonstration.Get complete version of the tool at $49 for personal key.
Split PST - Online Video Available
Online Video to Check Stability and Funtionality of the software!!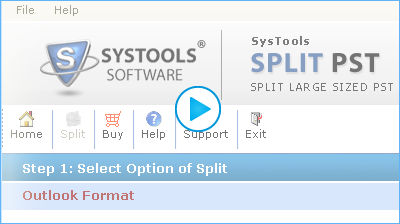 PST Splitter software is most trustable tool used by Outlook users to reduce Outlook PST size and improve Outlook performance. Outlook PST File Splitter is capable to split unlimited Outlook PST mails into multiple parts without any data loss. You can confirm its functionality and stability by watching online video. Online video (05:04 MM) will show you the complete process of the software. You can freely download trial version of split PST software to know much more about the software.Online video will sort out all yours query regarding the Split Outlook PST software.