Split PST in Outlook of Large Size
Split PST by Size
Split Outlook PST file by Size option permit you to select PST file by desirable size range. For e.g. If you have 2 GB of PST file then you can either choose 2 files of 1 GB or 4 files of 512 MB.

Split PST by Year
This is the way to divide PST file by year so that you can create separate PST file based on specific year range. For e.g. you can divide PST file between two selected years like 2000-2013.

Split PST by Date
You can select specific date range and break PST files in Outlook creating PST file for after and before the specified date range. In this option you need to choose the exact date before and after in which you wish to split.

Split PST by Folder
This option allows to Splitting PST files by folder (Inbox, Outbox, Sent items etc). If the size is more than the particular selected folder then the tool create other division of that folder.
Easily Improve performance

By using the software, users can easily improve Outlook performance by reducing PST file size by splitting them into multiple smaller chunks without any data hampering.
Speedy PST Splitting

Split PST software provides speedy process of dividing PST files so that users donít have to waste their precious time while installing & processing it. No technical skill is require.
Meta Data Intact

Split Outlook PST File Software kept all its Meta data informations like to, cc, bcc, sent &recieve , attachments, date etc as it is during the entire splitting process.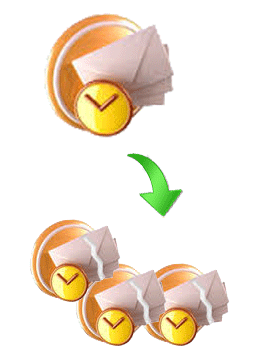 Split Complete Mailbox

Split PST easily divide entire Outlook mailbox like journals, notes, cantacts, calendars, task etc into mutiple smallars parts.You can easily save them at secure location .
Supports All versions

PST Splitter software supports all versions of MS Outlook 2000, 2003, 2007, 2010 (32 bit and 64 bit) and MS windows XP, Vista, 2000, 2003, 2008 , Window 7 and Window 8.
Split infinite Outlook Files

Split PST Tool has potential to split unlimited PST files without any data loss. You can divide any numbers of PST into smaller parts.The software creates NEW PST for each splitted folder.
PST Splitter to divide large and Heavy Outlook PST Data files into smaller parts.
Split entire Outlook Mailbox like Personal date, journals, notes, calendar, contacts, task etc without lossing any data.
To have the practical knowledge on how to split Microsoft Outlook PST files into smaller files, user can try its free demo version. It will shows complete process of splitting PST by permitting them to break 50 emails only as part of demonstration.Get complete version of the tool at $49 for personal key.
Select Split Option
To start the process, you need to select Outlook PST File format option (ANSI or Unicode) then select Split option to Split PST (By Size, folder, size and year)
Import PST file
After selecting split option, you need to import larger PST file which you need to split into smaller one.
Click on Split
Select destination folder where you want to keep the splitted files and click on Split to process.