Reduce Outlook PST File Size with Varied Options
MS Outlook is a very common name in today's business environment. It is basically used to send/receive emails, to save important contacts, to schedule upcoming appointments and meetings etc. Due to all this it plays a very crucial role in the professional life of any individual. The continuous & long time use of MS Outlook, starts giving an error in sending/receiving of new mail, refusal while saving any new contact or information. The main reason behind all these errors is Outlook PST File overloaded or oversized because Outlook saves all the data in a file called PST files (Personal Storage Table).
The attachments in PST file emails are the main cause of increasing the size of PST file which may result in some severe consequences. Then Reduce Outlook PST file size is necessary work to maintain Outlook PST file size and Outlook work performance. MS Outlook provides many options to reduce Outlook PST file size like Archive Outlook PST File, Compact Outlook PST, Import and export Option and Mailbox cleanup option.
In this section we will discuss about the free inbuilt 'Mailbox Cleanup utility provided by Microsoft' to effectively reduce the size of Outlook .pst data file. It allows you to view the size of your mailbox, individual folders. You can also archive old items to archive.PST and empty deleted items folder.
Reduce Outlook PST file size with the help of Mailbox Cleanup option
To manage the size of mailbox items, you need to follow few easy steps which are listed below:
Step 1
Open "Outlook" & Go to the "File" Tab and select the "mailbox cleanup" option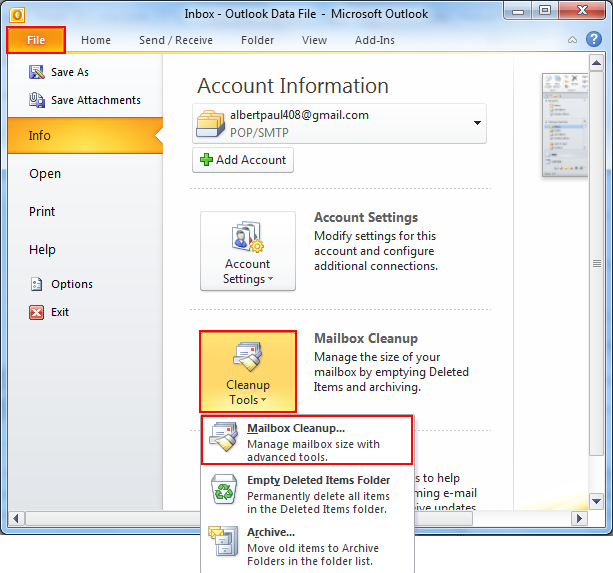 ---
Step 2
Again Click on the "mailbox cleanup" option, then a window pop-up at your screen as given below: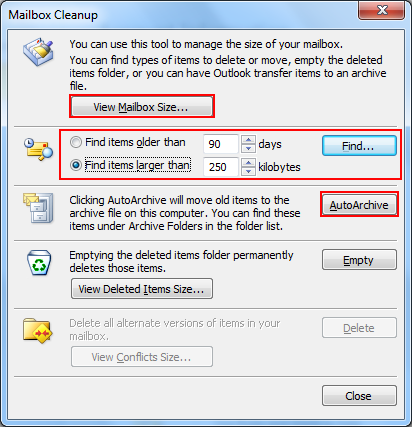 It will show the following options:
If you want to view the total size of the mailbox or individual folder, then click on "View Mailbox size" option from the Mailbox cleanup dialog box.
To find old items according to date wise or size wise, select find items older "than _ days" and enter a no between 1 and 999, and then "click on Find option".
When you want to Locate large items, then select find items larger "than _ KB", enter no and "click on the Find option".
To move old items in your mailbox to an archive file (.PST) click to "AutoArchive" option.
---
Step 3
To View the size of Deleted Items folder, Click on "View Deleted Items Size" and to empty your deleted items folder click on "Empty" option.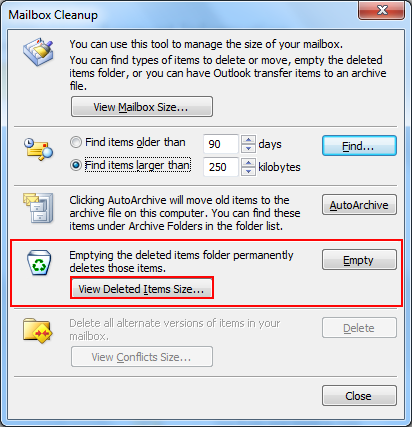 ---
Step 4
Whenever you want to view the size of Conflicts folder, click on "View conflicts size" or to delete the content of the conflicts folder click on "Delete" option.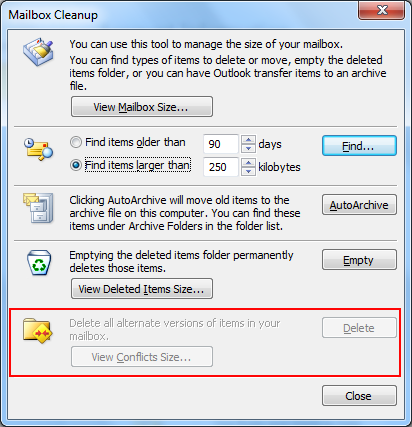 Try Manual method to secure your Outlook data from the corruption issue and reduce Outlook PST file size. If you feel that the manual method takes more time to reduce the size of Outlook data files, then you should move on third-party utility like- Split PST Software. This tool is integrated with an advance algorithm and features that helps you to split all data into smaller segments without getting more complications. Different splitting options to Split Outlook Data file:
Reduce PST File Size by Date: By using this option you will easily split large Outlook PST file in date wise manner.
Reduce PST File Size by Size: By using this option you will create many small PST files according to size as per your requirement.
Reduce PST File Size by Year: With the help of this option you will easily divide large PST data year wise.
Reduce PST File Size by Folder: Through this option you can reduce PST file size by creating a small sized PST file for each folder.