If you have a lot of messages in MS Outlook that you don't need to access for a long time, but you don't want to delete it, then the Archiving Outlook PST file is the great way to create backup or delete old items such as emails, contacts, notes, documents, appointments. The extension of archive folder is archived.PST, it's stored locally on your machine, So while you use Outlook on another PC or devices, then they would not be access your archive. This feature effectively reduces Outlook PST file size. Data archiving is the process which is generally used to store data for long term retention.
There are two types of archiving
Steps to Manually Archive Outlook Folder is given below:
Manual Archiving: Is a mannual process to take backup of all Outlook items. It favoured more by an Outlook users as it provides flexibility to specify exactly the folder items that are to be included in the archive folder.
Note: While you want to archive folder manually, then turn-off Auto-archive option.
Start by Clicking on File tab > Cleanup Tools > Archive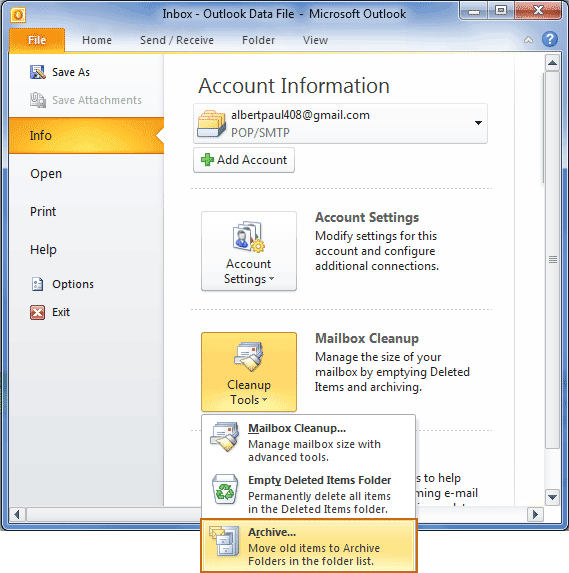 ---
After that, you can choose the Archive this folder and all subfolders option. By using this option, you will be able to select the specific folder that you want to archive.
Go to the Archive items older then option, select Date.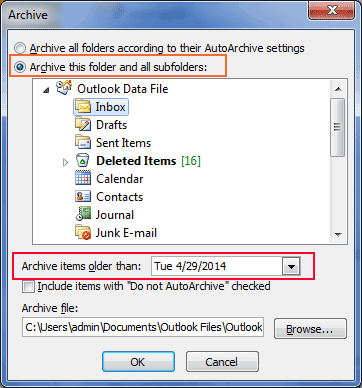 ---
If you want to change the location of the file, click on Browse button under the Archive File to specify a new location, then look for the file you want to Archive.
Enter the file name and then press on Ok button.
At this point, you will see the destination path of file in the Archive file dialog box and simply click on Include Items with Do not Autoarchive.
Click on Ok button to Finish Manual archiving process.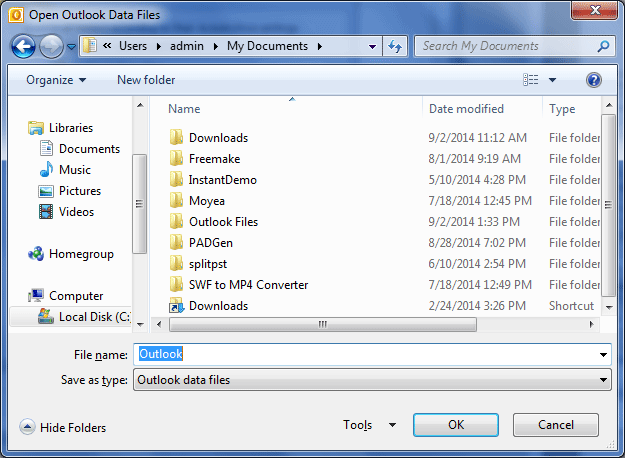 ---
Auto- Archiving
Steps to Auto- Archiveing Emails in Outlook: The other way provided by MS Outlook to create a backup is AutoArchive. It creates backup automatically for users by using default settings that the user specifies. By using this feature, users can automatically archive Outlook emails without getting any harm.
Select File > Click on the Options > Advance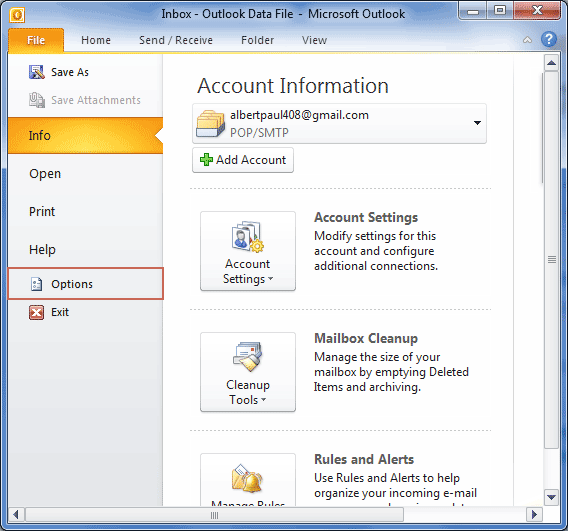 ---
Select AutoArchive settings under the AutoArchive.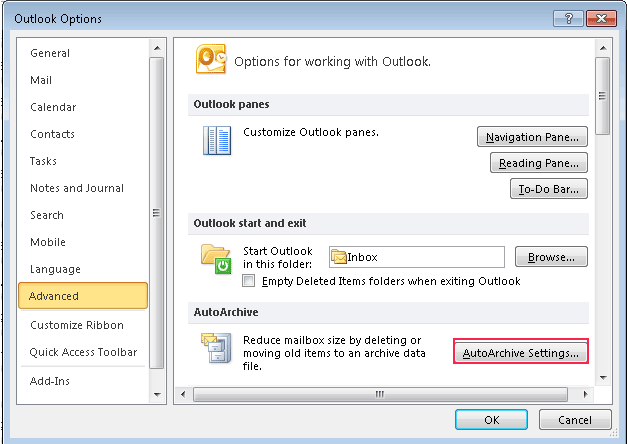 ---
Select the option Run AutoArchive every _days box.
After that, you will be able to specify how often AutoArchive will run. Modify all the settings until you are satisfied, click Ok.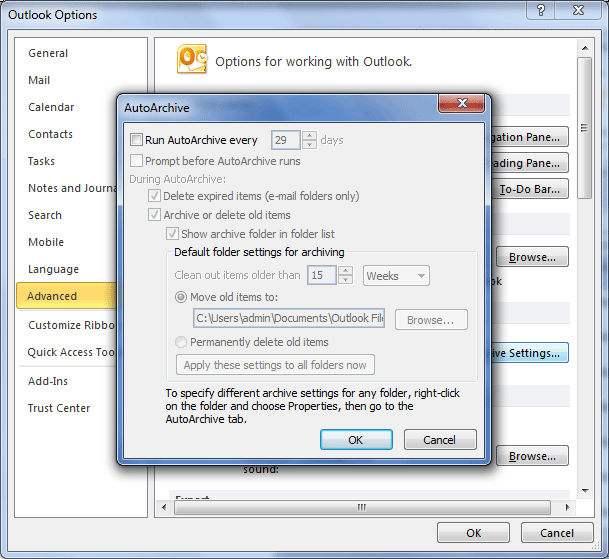 ---
Recommended Solution to Resolve above Query:
Split PST utility manages Outlook data and keeps it away from damage, cause due to the most common reason (oversizing). It is capable in spliting entire mailbox items like emails, journals, contacts, notes, task, etc. By using this software, user can easily split heavy Outlook data file (.pst) into small segments.
This tool provides multiple splitting options such as:
Split by Date: Feature is recommended when user have unnecessary huge Outlook data file. As this option helps you in spliting large sized PST files by Date. To implement this feature you have to just mention the date to split PST file.
Split by Size: Using this option you can easily break large sized PST file into smaller parts. Here you have to just assign a value for PST file size and it will split large Outlook data file according to it.
Split by Folder: This option is basically intended for those users who have multiple PST file folders. This option allows you to split PST file folder wise. This tool will create a single PST file for each folder present within Outlook.
Split by Year: If you have a huge collection of Outlook emails data and you want to split PST file data by year then this option really helps you. It also split PST file data by current year 2014 or upcoming year 2015.