Split Outlook Utility
Too Many PST Files Split with Outlook Splitter Tool
Split Outlook Utility For Efficient Working Of Outlook
Get the most efficient Split Outlook utility that will help to divide large sized PST into smaller parts in simple clicks!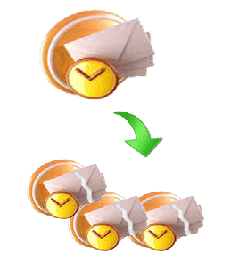 Because of its simple but efficient mail management Microsoft Outlook is the most popular emailing client across world. An Outlook file is known as PST (Personal Storage Table). All mail data folders, calendar, to-do-list and contacts get saved in PST.
Heavy PST File: Just like the size of all application increased over the time and files becomes heavy; the size of PST file also increases with the time and usage and as the PST size increases it starts creating problem to the user which gives rise to need for an efficient Split Outlook utility.
Hamper the Outlook Performance: - Like every application even the MS Outlook PST has size limitation. when PST file size reaches the allotted quote limit or about to reach that quota limit, then latency and performance issues starts getting prominent in Outlook and it starts hampering the performance of Outlook. Since the problem is related to large file size, it can only be handled with a proficient solution to split PST file.
Different Splitting Options: Chose Most Suitable One!
Split by size
Split by Folder
Split by Date
Split by Yearly
Download now Demo Version of for FREE !
Testing performance of software before buying it is a wise idea and so we offer the demo version of split Outlook utility. The demo version has same interface as the original utility poses. User can split 15 items per folder with the help of trial version of tool.