Split PST Software
Easily Split Outlook PST Files by Size, Date, Year, Folder & Email ID into Smaller Files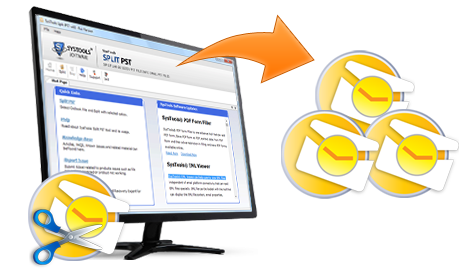 Split Outlook archive PST files with premium PST splitter software. It provides 5 different unique ways to split Outlook PST file by size, date range, year, folder wise, & email id. Read More
PST file splitter software also split Outlook PST files items such as emails, calendars, notes, tasks etc. It also supports corrupted or inaccessible Outlook PST file to split. Break large Outlook PST files with Split PST tool. It also provides option to exclude deleted item folders.
Split unlimited Outlook PST into smaller PST by creating New PST.
Split Outlook PST File - Date, Year, Folder, Size and Email ID.
Split PST File all Data Items including Emails, Contacts, Calendars, Tasks etc.
Split large PST files into any number of smaller sections
Supports Corrupted or Inaccessible Outlook PST files to split.
Split both UNICODE & ANSI PST with no File Size Limitation.
Supports all versions of Outlook: 2019, 2016, 2013, 2010, 2007, 2003, 2002
No Need to install MS Outlook for splitting huge PST files.
Single panel utility, No need to navigate it on other screen.
Corrupted Outlook PST files should be recovered before splitting.
Eminent Features of Split PST Software
To Separate Large PST Files of Outlook 2019, 2016, 2013, 2010 So on

Split PST by Size
Split Outlook PST file by Size option permits you to select PST file by desirable size range. For e.g. If you have 2 GB of PST file then you can either choose 2 files of 1 GB or 4 files of 512 MB.
Split PST by Date
You can select specific date range and break PST files in Outlook creating PST file for after and before the specified date range. In this option you need to choose the exact date before and after in which you wish to split.
Split PST by Year
This is the way to divide PST file by year so that you can create separate PST file based on specific year range. For e.g. you can divide PST file between two selected years like 2000-2016.

Split PST by Folder
This option allows to Splitting PST files by folder (Inbox, Outbox, Sent items etc). If the size is more than the particular selected folder then the tool create other division of that folder.
Split PST by Email Id
Split PST tool permits an option to break Outlook PST by sender's email id. Using this feature one can create new multiple PST files with all the emails specified in email address fields.

Supports Corrupted PST File
The tool offers an option to split corrupted and inaccessible Outlook PST file. One can easily break corrupt PST into multiple smallers aprts with or without MS Outlook installed.

Easily Improve performance
By using the software, users can easily improve Outlook performance by reducing PST file size by splitting them into multiple smaller chunks without any data hampering.

Split Complete Mailbox
The PST Splitter tool can easily divide entire Outlook mailbox like journals, notes, contacts, calendars, task etc into multiple smaller parts. You can easily save them at secure location.

Speedy PST Splitting
Split PST software provides speedy process of dividing Outlook PST files so that users don't have to waste their precious time while installing & processing it. No technical skill is required.

Meta Data Intact
Split Outlook PST File Software kept all its Meta data informations like to, cc, bcc, sent & receive , attachments, date etc as it is during the entire splitting process.

Supports All versions
PST Splitter software supports all versions of MS Outlook 2000, 2003, 2007, 2010 (32 bit and 64 bit), 2013 (32 bit and 64 bit), 2016 (32 bit and 64 bit) , 2019 and MS windows XP, Vista, 2000, 2003, 2008, Window 7 and Window 8.

Split infinite Outlook Files
Split PST Tool has potential to split unlimited Outlook PST files without any data loss. You can divide any numbers of PST into smaller parts.The software creates NEW PST for each splitted folder.

Split Archive PST Files
The PST Splitter allows to break archive.pst file/folder. The Split PST Software gives the option to divide Outlook archive by date, by size, by year, by folder, & by email id which can be easily manageable after importing it in MS Outlook.

Choose Appropriate Outlook Format
While choosing the splitting option, select the Outlook format which you are using. The tool supports Outlook 2000, 2002, 2003, 2007, 2010, 2013, 2016, & 2019. Hence, when you specify the Outlook version the software will automatically observe the PST format.
Simple Steps to Divide PST files into Smaller Parts – Get it Here!
PST Splitter to divide large and heavy Outlook PST data files into smaller parts. Split entire Outlook Mailbox like Personal data, journals, notes, calendar, contacts, task etc without losing any data. Read More
Select Split Option

To start the process, you need to select PST File format option (ANSI or Unicode) then select Split Outlook PST option to Split PST file (By Size, folder, size, year and email id)

Import PST file

After selecting split file option, you need to import larger PST file which you need to split into smaller one.

Click on Split

Select destination folder where you want to keep the splitted files and click on Split to process.
Split PST – Online Video Available
Online Video to Check How PST Splitter Tool Works to Break large Outlook PST files into Small Size PST Files !!
System Specification

What Client Thinks About Split PST Software
After having experience with other commercial solutions in the market, I had grown several doubts on other tools. However, one day I found Split PST file software, I had no faith left. But to my surprise when I used this tool I saw precise solutions while splitting PST files of larger size.
– Aisha Winget
USA
I would like to suggest you all, if you want to split large PST file into smaller parts then you can easily rely on best PST Splitter software. This tool offers both simplicity & a package of efficiency & effectiveness. "Just Buy it & Try it.
– Swiss Ernald
Atlanta
It was very difficult for me to walk out from Outlook just because of the file size limitation. So I did something out of my way & had purchased best PST Split software. The application is user-friendly & can split PST by date, folder, size & year with proper management.
– Maria Rose
New York
From last few days, Outlook failed to provide utmost performance. Probably this is due to large PST files as I searched on forums. In one such forums, a expert person suggested me to try Split Outlook PST file tool. I tried the demo version and found it quite useful. I sincerely thanks to him. Really great to software to deal upon to break large Outlook archive PST files.
– Rasul Muhammed
UAE
At first, I faced multiple obstruction while using Outlook as business email client. But later on, I developed habit to deal with these issues and problem. To gain this confidence I took the help of Split PST tool. It worked like a expert user who seriously works on real time projects. The software proved its worth. As a token of gratitude, I would like to suggest this software to my friend and family circle too.
– John Finch
USA
Splitting oversized Outlook PST files is very difficult task with the manual solution. But after getting this tool, the process seems to very simple and easy. I used split PST software to break oversized PST files of Outlook 2013 into small size PST files. Thanks Justin (expert at quora) to suggest me this tool. I am very much grateful to you for this.
– Mark Jacobs
South Africa
FAQ – Related to PST Split Utility